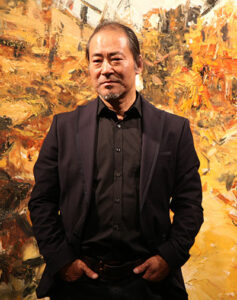 Born 1966 in Rizhao, Shandong Province (China).

From 1993-1994 he studied oil painting at the prestigious China Central Academy of Fine Arts.
Wang's major works portray socio-economic changes and transitions as reflected in the cultural history of both Eastern and Western civilizations.
For his cycle 'The Lost Glory' (2006-2009) he was awarded the gold medal at the Exhibition of Young Chinese Painters in Beijing.
Wang's works have been exhibited and collected internationally, in countries such as Taiwan, South Korea, the United States, Germany, Austria and the Netherlands.
Besides this, he was Artist in Residence at Künstlerhaus Salzburg (now Salzburger Kunstverein, 2009-2011) and until 2018 he has helped Land Salzburg to conduct its overseas studio program granted to Salzburg artists in Beijing.
Wang lives in Salzburg most of the year.
Geboren 1966 in Rizhao, Provinz Shandong (China).
Von 1993-1994 studierte er Ölmalerei an der renommierten China Central Academy of Fine Arts.
Wangs Hauptwerke zeigen sozioökonomische Veränderungen und Übergänge, die sich in der Kulturgeschichte der östlichen und westlichen Zivilisationen widerspiegeln.
Für seinen Zyklus "The Lost Glory" (2006-2009) wurde er auf der Ausstellung junger chinesischer Maler in Peking mit der Goldmedaille ausgezeichnet.
Wangs Werke wurden international ausgestellt und gesammelt, unter anderem in Taiwan, Südkorea, den USA, Deutschland, Österreich und den Niederlanden.
Außerdem war er Artist in Residence am Künstlerhaus Salzburg (heute Salzburger Kunstverein, 2009-2011) und half dem Land Salzburg bis 2018 bei der Durchführung seines Studioprogramms für Salzburger Künstler in Peking.
Wang lebt die meiste Zeit des Jahres in Salzburg.